Welcome!
If you are a 1981 graduate of Garner Senior High School (North Carolina), you're at the right place. This site is really a portal to help you connect with classmates.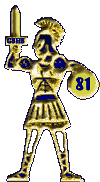 There are several ways you can stay connected to your fellow classmates, and those links are shown at left.
The official Facebook group is becoming increasingly popular and a good number of classmates are there, so we encourage you to join us there!
A number of classmates have profiles at Classmates.com, though we have not really used that site for official reunion planning or communications.
Passed Classmates
Jan. 2013: Since September we have lost three classmates (Sheila Duell Mitchell, Robyn West Farmer, and just this week, Greg Carlisle). There is now a blog space set up where you can post remembrances. [more...]
Reunion (2011):

THANKS TO ALL WHO CAME!
Click here to view the slideshow that David Cawthorn put together for the 30th reunion! (Slideshow will be posted for a short time only.)
The 30th reunion (August 27, 2011) was a great success. Thanks to all who came, and to the fabulous planning committee! [more...]